Jack, the man.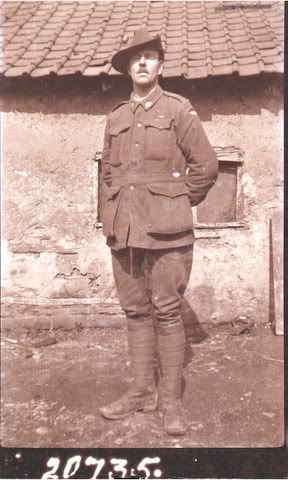 Jack was born in October, 1887, in Sandgate, Queensland, at his parent's house in Palm Avenue. The little cottage still stands today, at the corner of Bevington Street. His parents, three sisters, and two brothers had arrived in Brisbane on the "Chyebassa" in October 1885.
The family had been living in the United States, around the Great Lakes, since 1867. Jack, and his brothers, were all members of the Sandgate Town Band; Jack was a champion cornet player, and had even had a Junior title stripped because he was too young. He was 8, and you had to be 13 to be a Junior!
In one of those little coincidences which follow us throughour lives, today (August 7) is my father's 85th birthday. Jack would have had little inkling that three years after starting his diary, he would be holding his day-old firstborn.
Jack joined the Naval Reserve in Brisbane but after 3 months enlisted in the army in 1916. He trained at "Fraser's Paddock" (Enoggera) then shipped to France with the Field Artillery as a signaller. He, with Gunner Ridgeway, was awarded the Military Medal in 1917 but then after wireless school was transferred to the 42nd Batallion, First AIF, and then to the 43rd Btn. In the final months of the war, the period covered by the diary, he was mostly a bandsman.