Page 7-8 - August 24th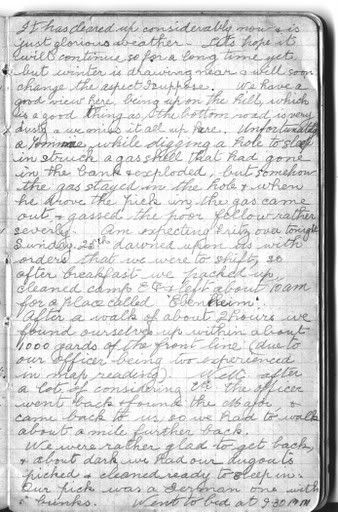 Saturday 24 Aug

dawned rather cold & cloudy. Fritz left us alone last night as I think he was kept busy in the line. The Aussies hopped over & kept him thinking a bit. Everything seems to be going good & the boys are still advancing & doing well.
It has cleared up considerably now & is just glorious weather. Let's hope it will continue so for a long time yet, but winter is drawing near & will soon change the aspect I suppose. We have a good view here, being up on the hill, which is a good thing as the bottom road is very dusty & we miss it all up here. Unfortunately a Tommie, while digging a hole to sleep in struck a gas shell that had gone in the bank & exploded, but somehow the gas stayed in the hole & when he drove the pick in, the gas came out & gassed the poor fellow rather severly (sic). Am expecting Fritz over tonight.
Thursday Aug 24
is another warm dry day here. Over to the office early. Mrs D appears to be well and truly on the mend, now, but still a little weak from the fever.