Page 23-24 - October 23rd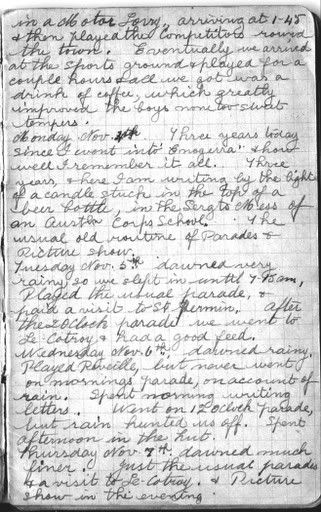 Wednesday Oct 25
th
was a rather quiet day, spent in cleaning our gear for the trip to the Corps School in a Motor Lorry, arriving at 1:45 & then played the competitors round the town. Eventually we arrived at the sports ground & played ofr a couple of hours & all we got was a drink of coffee, which greatly improved the boys none too sweet tempers.
No way of checking whether this was Wednesday, or 25 October (which would have been a Friday). Anyway, something interrupted the diary here, because the next entry is Monday November 4
th
.
Monday Oct 23rd
more like a normal spring day than the gale conditions over the weekend. My normal route to work again operating more-or-less as normal, which is good. Blogger has been playing silly buggers this morning, which accounts for the late posting.