Page 4 - August 14th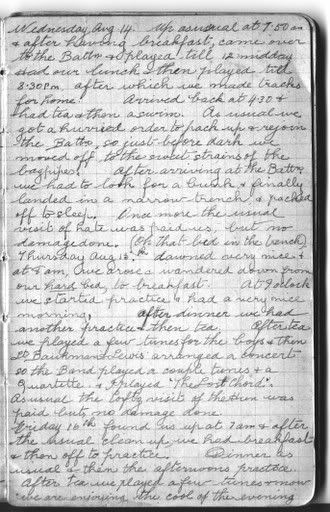 Wednesday Aug 14.
Up as usual at 7:50am & after having breakfast, came over to the Battn & played till 12 midday. Had our lunch & then played till 3:30pm after which we made tracks for home. Arrived back at 4:30 & had tea then a swim. As usual we got a hurried order to pack up & rejoin the Battn, so just before dark we moved off to the sweet strains of the bagpipes. After arriving at the Battn we had to look for a bunk & finally landed in a narrow trench & packed off to sleep. Once more the usual visit of hate was paid us but no damage done. (Oh that bed in the trench.)
Monday Aug 14.
Sounds of birds in the garden to wake me once again. Generally, a lazy day. Knees and hip playing up a bit after the driving on Thursday and Sunday, so had a nanna nap after lunch. Frosty in the morning, and not terribly warm during the day.