Page 17 - September 21st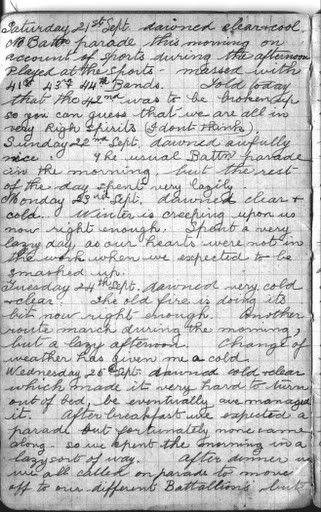 Saturday 21st Sept dawned clear & cool. No Battn parade this morning on account of sports during the afternoon. Played at the sports massed with 41st, 43rd & 44th Bands. Told today that the 42nd was to be broken up so you can guess that we are all in very high spirits (I don't think).

Thursday 21st Sept
a very nice morning. Did some proof reading of my daughter's Uni assignment, then varnished the the latest woodwork project and attached the lid etc. Drove to Toowoomba later for a long weekend of mother-sitting while my sister is in Sydney for a Scrabble tournament and a little time with her daughter. Not a bad drive, but a warm day on the road. Only one road idiot encountered, and that was in Toowoomba.
Anniversary:
21 years ago on this date, my dear lady and I were married in a civil ceremony at the Bandung Registry Office.